2018.04.01 Sunday
#182 Whether I prefer city life or country life.
こんにちは!
早くも4月になり、桜がキレイな季節になりましたね!
4月から、入学や就職、転勤など、新天地で生活をスタートされた方もいらっしゃるのではないでしょうか?
「住めば都」という言葉がありますが、住んでみると、その土地土地の魅力がありますよね!
今回のtopicは"Whether I prefer city life or coutry life"です。
私は「若いうちはcity life、老後はのんびりcoutry lifeなんて素敵だな〜」なんて考えていますが、皆さまはいかがですか?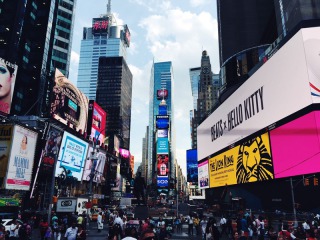 I prefer city life only in cases in which it has a lot of nature, different kinds of parks, boulevard trees, and rivers.
City life is easier to live in than country life. It's more convenient, closer to my office, more cafes, shops, restaurants, and clinics. We have so many choices.
On the other hand, in the case of country life, we need a car, it takes a long time to go to the office, clinics, and we don't have any choice about shops.
However, I know the advantage of country life. Nature heals our mind. We can have a house, garden, fields. Compared to the city, the air is cleaner, time is slower, and things that add stress are lessened.
Nethertheless, the reason why I chose city life is that the atmosphere is vibrant. So I'd like to live in the city and visit to various cities in the world.
When I'm becoming older in the future, I would like to visit various rural landscapes around the world. The itinerary would have leeway.
教師より
I think in the future. I'd like to live close to the countryside or a small city.
As you said, the city is very convenient and we have access to a lot of public facilities.
The problem of the city is that it may become over crowded or pollution increases. Our work life might be very stressful too.
The countryside is very peaceful but public facilities are few and far between. Although it refreshes our minds and we can relax. Often public transport is not very good either.
Therefore, there are positive points to living in either area. It might come down to the needs of the person.
Calendar

1
2
3
4
5
6
7
8
9
10
11
12
13
14
15
16
17
18
19
20
21
22
23
24
25
26
27
28
29
30
Selected Entries
Archives
Links
Profile
Search this site.
Others
Mobile
(C) 2020