2018.09.13 Thursday
#186 Ways to protect nature
こんにちは!
8月は夏休みをいただき、essayをお休みさせていただきました。
日本のみならず、近年では世界中で自然災害が起こり、自然との向き合い方が見直されつつあると思います。
そこで本日紹介させいただくtopicは "Ways to protect nature" です。
生活が便利になっている一方、私たちは自然を破壊し続けているのかもしれません。
皆さまは、どのように考えますか?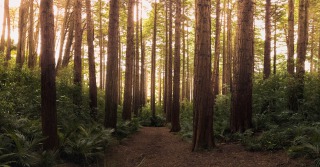 Nowadays, there are a lot of problems about the environment because of global warming. The reason of global warming is that people are cutting many trees. Green plants carry out photosynthesis which is a process that changes CO2 to O2.
On the one hand tree cutting makes me happy so I can use furniture, on the other hand it makes me unhappy as a person living in the earth. What should we do?
I think there is one way not to exacerbate the environmental problem. It is not using too many trees for making furniture.
Long time ago, we did not have plastics, but now there are not only trees but also plastics. So we do not have to use many trees. However plastic is made from oil. There is a limit to oil. Also we are creating too much waste.
The best way is not to make too many things, but it isn't easy. So we should be careful about not buying many things.
教師より
Our problem would be solved quickly if we stopped using plastics and planted more trees. Plastic doesn't biodegrade, that's why our waste is piling up. Before the advent of plastic, people were cutting down trees moderately and they were planting new ones too. So, it was completely sustainable. Oil companies like Shell get their oil from Arctic. They melt the ice and cause other problems by producing plastic. I wish we could get rid of all the plastic in the world.
Calendar

1
2
3
4
5
6
7
8
9
10
11
12
13
14
15
16
17
18
19
20
21
22
23
24
25
26
27
28
29
30
Selected Entries
Archives
Links
Profile
Search this site.
Others
Mobile
(C) 2020