2018.11.08 Thursday
188 Good and bad things that happened to you last year
こんにちは!
2018年も残すところ約2か月、年々過ぎるのが早くなるように感じるのは私だけでしょうか・・・
本日紹介させていただくessayは、元高校球児の生徒様が書かれたものです。
とてもポジティブな内容で、"bad things"と捉えるか、"good things"と捉えるかは、自分次第なのだと教えていただいたessayでした!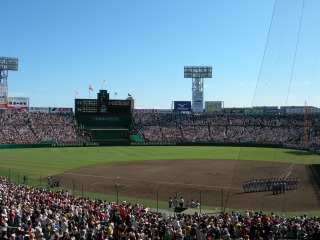 One of the good things that happened to me last year was what I became a selected player in my baseball team. Only 20 people are chosen from 120 people every year. I wasn't chosen when I was a first grader and a second grader. So I did a lot of practice every day. So I was delighted when I was chosen.
One of the bad things was that I couldn't go to the National High School Baseball Championship. It was our target from when we were first graders. So we all cried including the people who were not chosen as players when we lost the game.
But they all became the best memories in my life. And I want to go back to those days. So I think that last year was good year.
教師より
I can tell that you had a pretty exciting year. It's an important talent to look back at past defeats and remember them as good memories. It must be really honorable to be selected as a player in your team. Life is beautiful with its ups and downs. You have many more good years ahead of you.
Calendar

1
2
3
4
5
6
7
8
9
10
11
12
13
14
15
16
17
18
19
20
21
22
23
24
25
26
27
28
29
30
31
Selected Entries
Archives
Links
Profile
Search this site.
Others
Mobile
(C) 2020