2019.09.10 Tuesday
#195 Human/Civil Rights
こんにちは!9月に入ったというのに、まだまだ暑い日が続きそうですね。
夏の疲れが出る頃、皆さまくれぐれもご自愛くださいませ。
さて、本日紹介させていただくessayですが、2016年に受講生によって書かれたものです。
2019年の今、香港での大規模デモは長期化・泥沼化しており、緊張状態にあります。
私たちが暮らす日本においても、改憲が議論され、"human/civil rights"について今一度考えなくてはならない時期だと感じています。
英語を道具として使えれば、世界中のニュースや歴史、人々の考えなどを学ぶことができ、私たちの世界はもっと広くなるのではないでしょうか。
"Human/Civil Rights"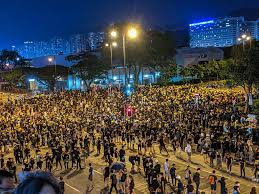 Human rights are one of the basic rights that many societies think every person should have, to be treated in a fair equal way without cruelty, for example by their government, or the right to vote.
People have been struggling to obtain them over a long period through many battles against their leaders. Nevertheless, human rights are still likely to be violated by the government, evil people and other countries.
Those who live in unstable political conditions are facing serious danger with their right to live, which is the most fundamental one.
Recently, the migrant crisis is becoming a great concern all over the world. Ironically, human rights might need a strong government to support them, where people win their rights to a free and equal society. The scene of many migrants at European borders and the coast lines tells us of the humanitarian catastrophe of the citizens who lost their stable nation. Besides, people who can't escape from the battle zone, face a more horrible situation.
To guarantee human rights, no matter where we live, it can't be fairly performed by only one country. Nowadays we should help each other and support one another beyond the borders. In doing so, all of humanity who live in this world can enjoy human rights and grow properly together and enjoy the diversity.
教師より
You wrote some excellent points about human rights. Certain leaders or groups have advocated and rallied for human rights for numerous years.
In the case of the current migrant crisis, many critics cite that Western governments intervention is the main reason.
Many young US citizens are desperate for charge and agree with Bernie Sanders, as the current state of capitalism foreshadows basic human rights to free education, health care and so on. Recently, a young advocate for the "million student march" called Darletta Scruggs pointed out that the US government has enough money to spend on War but not on free education like in other countries such as Sweden etc.
Much to the protest of a fox news reporter, if profit cannot be made, then the government, stock holders have no interest.
Through history, power corrupts and it's always the less fortunate that suffers. The world has become more dystopian but there is still hope that people will work together and fight for human rights.
Calendar

1
2
3
4
5
6
7
8
9
10
11
12
13
14
15
16
17
18
19
20
21
22
23
24
25
26
27
28
29
30
Selected Entries
Archives
Links
Profile
Search this site.
Others
Mobile
(C) 2020